---



---
Hopelessly Inept and Self-absorbed Autobiography
My name is Naomi Claydon, Ni for short (pronounced as in 'The End Is', not as in 'The Knights Who Say...' Got that? Good!) And I was born in Oxford, England on the 28/2/1979. I've just graduated with a BSc in Information Systems (Artificial Intelligence). That's not why I have a homepage, I'm just terribly vain. I'm currently working at National Rail Enquiries, and badgering innocent comic editors with assorted scripts.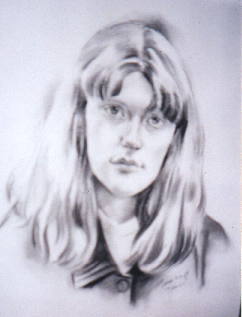 A Doctor Who fan for many years, I'm also quite fond of the rock band Queen, science fiction in general and all things chocolate. Not always in that order. Much as you're no doubt looking at my portrait and imagining me as a six-foot blonde, I'm actually a five foot four redhead. And I have no idea what that is in those new-fangled metre things.
Big mention to sister Emma, student, and parents Sara and Maurice, who are going to be a bit surprised when they see this. (I'm working, Mum, honest!) And also to my lovely boyfriend Andy, whom I love to pieces (and pretty small pieces, at that!)
Hope you enjoy my page, but since I can't see it being of much interest to anyone outside my social circle, I'm sure you'll all tell me it's great- to my face.
If you have any questions, comments, or good-natured ribbing, you can get hold of me at:
---
Sign My Guestbook

View My Guestbook
---
Obligatory Links File

Right here...
Other Fiction
This is where my non-Who fiction is being added.

Read why you should never mix a bottle of Bailey's, a couple of fangirls and a Dalek prop. All together now: Who the smeg is Becky??
Other Links
I decided this page was getting a bit too crowded, so links out of my World are now found here.